About Eric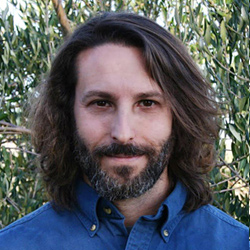 Shortly after graduating from American University in 1993 (B.A. Psychology), my life went through a series of unexpected changes which included the discovery of a deeper spirituality and the study of astrology. My personal revolution and evolution included the decision to drop out of a Ph.D. Psychology program to move to Boulder, CO and study Transpersonal Counseling Psychology at Naropa University. Upon attaining my M.A. in 2001, I committed to a career as an astrological counselor. The same year, I began my studies with astrologer Steven Forrest, who I tutored with for 5 years. In the last 17 years my practice has steadily grown, and I have now published 6 original astrology books.
I see myself as a fellow traveler on the path. As Ram Dass says, "We're just walking each other home."  Indeed, we are walking towards greater wholeness — towards more love and depth in the heart, and more expanse in the sky. The idea of spiritual awakening came into my life in my 30s. Through teachings from Sri Ramana Maharshi, Eckhart Tolle, Byron Katie, Adyashanti and others, I began to see the world much differently, similar to the phenomena in our dreams or at a movie. To me, spiritual awakening involves the recognition that each of us is the writer, director and starring actor in our own drama. The astrology chart is a depiction of the territory, and it is our job to navigate consciously. I enjoy finding the links between the spiritual wisdom from awakened teachers into the astrological system. I see myself as a translator of progressive ideas into astrology-ese, someone who finds the point of integration. My life has deepened, and given far greater perspective, by spiritual practice. My intellectual/philosophical side is balanced by meditation, introspection, and lots of time in nature.
The metaphysical is grounded by the psychological, which is pervasive in my biography. I hold 2 psychology degrees and worked as a counselor in the mental health field for many years. My style is to be maximally accessible and to accept others just as they are without pretense. I have a compassionate yet direct approach, and I am fascinated and curious to hear my clients' experience.
Currently residing in Connecticut, I'm spending time writing, developing spiritually and being with family. I maintain a busy practice and welcome new (and return) clients. I am creating a body of work to be part of the progressive wave I see steadily approaching. My greatest desire is to contribute to a 21st Century astrology incorporating spirituality, science and psychology which empowers the individual to live in co-creative harmony with nature.